Aeration Maintenance — It Does A System Good!
March 17, 2021
By Wisconsin Lake & Pond Resource Staff
Imagine that you have just invested in the purchase and installation of a properly sized aeration system for your pond. Do you sit back and think to yourself that everything is good now and you can forget about it? Oops, re-evaluate that thought!
Aeration systems require routine maintenance, similar to a vehicle. If the system is operating year-round, Wisconsin Lake & Pond Resource (WLPR) highly recommends full maintenance on the system twice per year, which is typically in the spring and fall.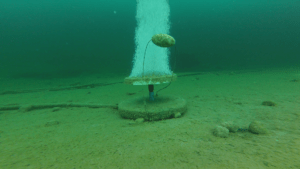 As part of this valuable full maintenance service offered by WLPR, we lift each of the diffusers in the pond to the surface and remove all debris. This helps to promote proper airflow to each of the diffusers in the pond. If one diffuser is partially plugged, air will naturally follow the path of least resistance and escape out of a different diffuser. This may seem insignificant, but the quantity and location of diffusers is designed specifically for each pond to promote great water quality as a management tool.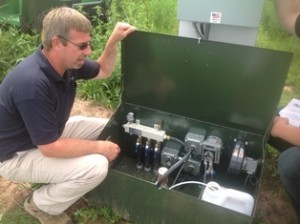 There are a series of internal filters, seals, and mufflers that also need to be replaced on the compressor during each service event. As the compressor operates, debris can be deposited internally as compressor components wear. Debris from the environment can also collect in the cabinet which can restrict intake filters. This is the reason that WLPR suggests vacuuming the aeration cabinet to remove any loose debris.
Aside from the routine maintenance, the other internal air producing components should be replaced on an as needed basis. You can determine if any air producing components need to be replaced if the system is not producing enough air or not producing air at all.
Completing these simple yearly maintenance items helps to promote ultimate longevity of your aeration investment. Contact us today for more information.