Enjoy your pond even in the winter!
January 24, 2017
During the winter months, many pond owners patiently await the thawing spring season to enjoy their backyard oasis once again. After many satisfying warm weather months, pond owners believe that this is the only time period to get use out of a water body. With a little bit of warmer weather, a few extra layers, and a group of friends and family, your "sleeping" pond can offer year 'round use!
Let us be the first to mention that it is best to never venture onto a frozen pond alone, and to make sure that the ice conditions are entirely safe to support activities.
Wisconsin Lake & Pond Resource offers spring and fall fish stocking for your lake or pond, which can allow for Ice Fishing from your living room window! Think of catching and releasing, or catching and eating fish that you stocked and took care of during the summer season! Our full time biologists can help to pick species and quantities that would fit your pond perfectly.
If a fishery is not desired or in the budget, there are other competitive games or sports that can entertain for hours! After work hours, WLPR staff can be found ice skating or playing broom hockey on the corporate pond behind their office building. The level of this competition is typically quite low, but still gives another option for enjoying the pond during the winter months.
No matter the competition level, activity, or group of friends, memories and stories will be made each time on the ice. Let Wisconsin Lake & Pond Resource help to prove that winter activities on your private pond give yet another reason to go no further than your own backyard throughout the year!!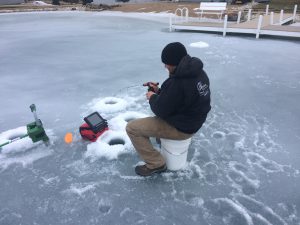 Winter is never too early to plan- Contact Wisconsin Lake & Pond Resource, LLC for more information or to schedule a site visit to start planning your backyard pond paradise.
Toll Free: 866-208-0724