Limited Quantity! Muddy Blinds
2021 Pricing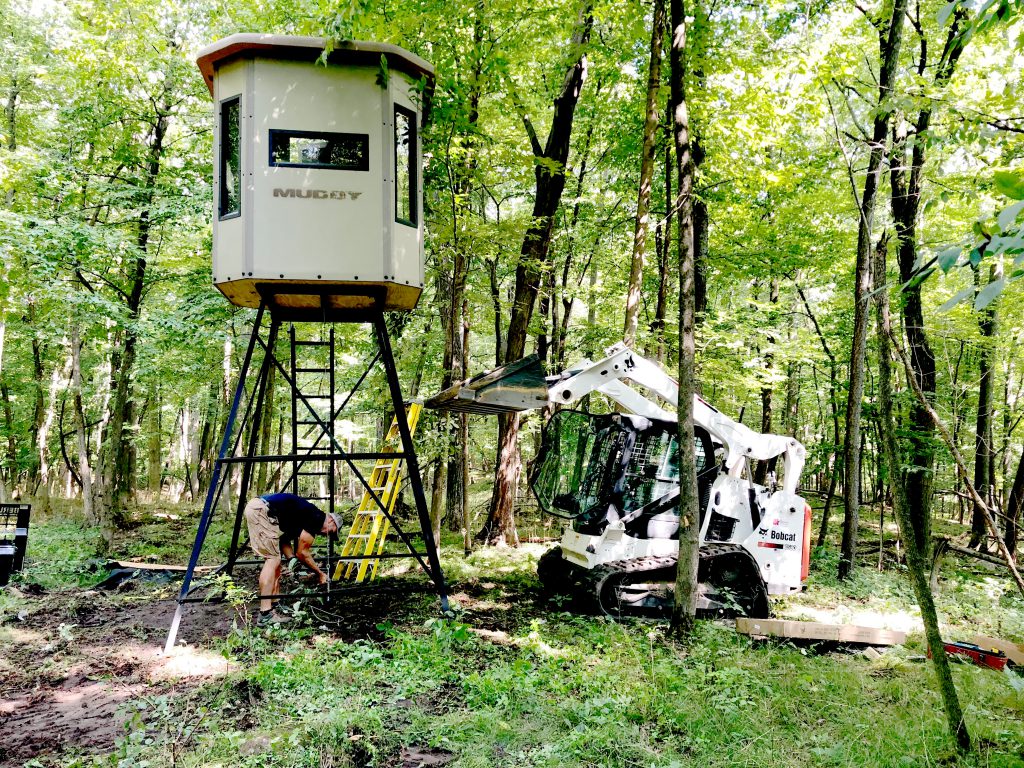 Muddy Bull  with 10' tower $3,150 plus tax
Muddy Bull $2,699 plus tax

Inquire about pricing
Muddy Penthouse with 10' tower
Muddy Gunner  with 10' tower
Muddy Soft Side 360  with 10' tower
THE PENTHOUSE BOX BLIND
Whether it's teaching the little ones the basics of hunting or going out with an old friend, the Penthouse has plenty of room to spare. Built with the same advanced structure as the Bull, while offering hunters enough space to spend long comfortable hours out in the field, the Penthouse is our largest box blind yet!
Dimensions: 87′ W x 69″ D x 78″ T
Door: 30″ W x 70″ T
Horizontal Windows: 28″ W x 15″ T
Vertical Windows: 12″ W x 42″ T
Solid Floor: Joist and Sheeting
Walls: Therma-Tek Panels – Insulated Design provides Thermal, Scent, AND Noise Control!
Roof: Heavy-Duty Rotational Molded Plastic
Windows: Residential Quality Glass and Steel Hardware with ultra-quiet window latches
---
MUDDY BULL BOX BLIND
The Muddy Bull Box Blind is the pinnacle of blind advancement in the hunting industry. It is hands-down the best box blind on the market. Besides the insulation, rugged construction, window placement, dead quiet features, and numerous hunter driven structures like a built-in gun rest, what separates the Bull Box Blind is the accessories that can accompany it. Overall the Bull provides a comfortable, solid hunting setup ideal for all hunting blind applications.
Insulated Design provides Thermal, Scent, AND Noise Control!
Solid Floor and Heavy Duty Roof
EZ One-Hand Window Design
Ultra-Quite Window Latches
Large Interior
Durable Carpet
1 Shelf for Comfort and Organization
Drink Holder and Cubby Box Included
Molded Threaded Inserts Included in Each Shelf for Accessory use
Full-Size Door, with Lockable Keyed Entry
---
MUDDY GUNNER BOX BLIND
The Gunner box blind is the younger brother of the Muddy Bull box blind. From the same genetic pool, the Gunner features all of the bells and whistles of its older brother, the Muddy Bull, just in a smaller package. This offers hunters the same superior quality they have come to expect from the Muddy Bull Blind, now in a smaller and more budget-friendly blind!
Floor: Joist and Sheeting
Walls: Therma-Tek Panels Offering Thermal, Scent and Noise Control
Roof: Sheeting and Plastic, Heavy-Duty Molded Roof
Windows: Residential Quality Glass and All Steel Hardware, Ex one-handed window design
Blind Dimensions: 4′ Square x 7′ Tall
Door: 30″W x 70″T with Lockable entry
Windows: 33″ Wide x 13″ Tall
---
PROFESSIONAL INSTALLATION
Don't leave your installation or selection up to chance. Rely on the professionals from Wisconsin Lake & Pond Resource to help you assess the land you want the blind on, learn about the advantages of each model, and learn from fellow users of the blinds to make the best choice. Then, once you've got it picked out, our team can help assemble and construct your Muddy Blind right on your property. We can help you take the hassle out of getting your Muddy Blind exactly how you want it, and simply enjoy the Muddy Blind advantage!
Trained and certified land management specialists
Pick up or delivery available
Additional services include land clearing & mowing shooting land
Service is great. Pond quality good.

Jim B
To Purchase or for More Information
Click the button below to get started