Picking the Right Excavator for your Project
April 20, 2021
by Andy Wassman
Pond Development Supervisor
When a pond project is in the planning process, one of the most important decisions is selecting the right excavator for the specific type of project.
If the work to be completed resides in a wet location (an example would be the dredging of an existing pond), selecting an excavation company with a long reach arm on their machine is necessary. Wetter locations tend to be troublesome for excavators, and many times they get stuck or damage the site if they do not have a long reach arm. Staying out of wet areas keeps everyone happier! If any of the material from the wet location needs to be removed from the development site, sealed truck beds are necessary to eliminate leaking of the material on roadways.
Any pond over two acres in size benefits significantly from GPS guided equipment. This technology helps in two ways. First, it keeps the project size in control eliminating the possibility of accidentally increasing an area of the pond. If a project is using synthetic lining technology, increasing an area of the pond increases the project cost because more liner is needed. Second, GPS guided equipment allows Wisconsin Lake & Pond Resource (WLPR) to measure from a plan generated by the excavator. Accurate measurements are crucial when quoting the cost of a synthetic liner for a larger size pond.
WLPR recommends that a customer hire an excavation company they have worked with in the past, or that someone they know has worked with in the past. For the excavation phase of a pond project, billing is handled directly between the property owner and the excavation company. This helps to eliminate any billing surprises! WLPR will consult with the selected excavation company and provide details and instructions for excavation to ensure a proper synthetic liner installation phase.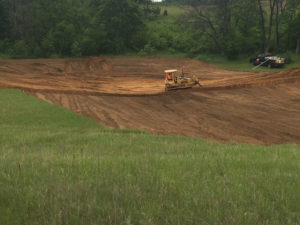 Finally, selecting an excavator that is technology savvy is crucial. The excavation process requires frequent communication, most of which consists of emails with details. Cell phone access is also advantageous when an excavator is onsite for two‑way communication between the excavator and WLPR.
Following these simple guidelines helps to ensure a smooth and efficient project from start to finish. Contact us to start your project!