Property Owners
Have you ever considered a large FISHing pond in your backyard stocked with largemouth bass, blue gill, crappie and perch? How about a SWIMming pond for your children or grand-children that would be the envy of your friends and neighbors? Perhaps you like the tranquil sound of SPLASHING water from a beautiful lighted decorative fountain….sipping a glass of wine or enjoying your favorite cocktail by the water after a long day at work….remember it's all about the FUN & RELAXATION!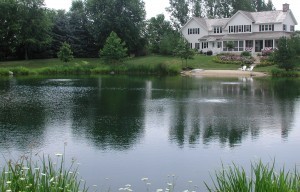 I think they did a great job managing the pond again this year. I also appreciate how quick they are to respond to us when there is a question or concern (for example our question on no tadpoles and fish not biting). They have also been very willing to provide whatever information we have requested from them in regards to the treatments and their impacts (or lack there of).

They have been a great partner to work with!

Homeowner association member
How much does a pond cost?
Let us help you plan your budget