Bio-Feed Systems
Rugged, low-cost, around the clock automatic product delivery!
The Bio-Feed metering system allows the pond manager to provide ongoing product delivery with minimal effort. Wisconsin Pond Products Bacteria, Enzymes, and Dye along with liquid alum and algaecides can be used with the Bio-Feed Metering system.
Capability
Bio-Feed's unique 7- day clock can program dosing events that occur one day per week, all weekdays, all weekends or every day. This means easy programmability up to 24 events with variable run times from 1 second to 20 minutes.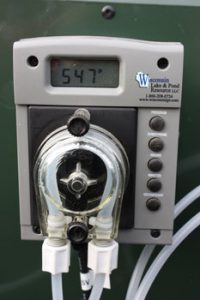 Voltage Options available
115 Volt
230 Volt
Battery-Powered
12 Volt DC battery capabilities make delivery available in remote locations.
Installation
Simply install the standard Bio-Feed metering system in an existing aeration enclosure or nearby structure. The 3/8″ delivery line is easily buried to the pond edge. For best results, discharge near diffusers, fountains, or waterfalls.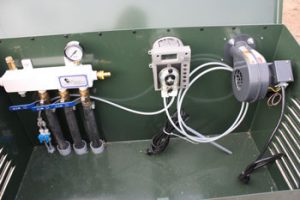 I think they did a great job managing the pond again this year. I also appreciate how quick they are to respond to us when there is a question or concern (for example our question on no tadpoles and fish not biting). They have also been very willing to provide whatever information we have requested from them in regards to the treatments and their impacts (or lack there of).

They have been a great partner to work with!

Homeowner association member
How much does a pond cost?
Let us help you plan your budget