Lake & Pond Dye
Wisconsin Lake & Pond Resource LLC utilizes lake dye and pond dye where applicable to enhance and improve the quality of that particular aquatic resource. Lake and Pond Colorants improve the appearance of "stained" water.
Available in black and blue concentrated quarts.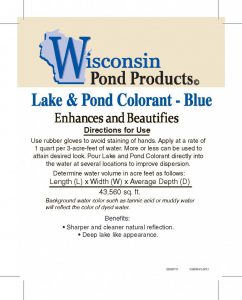 Product worked well. Will call again in spring to see what we need

John and Mary O
How much does a pond cost?
Let us help you plan your budget